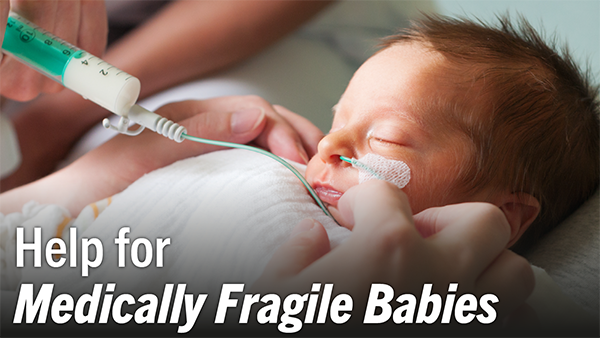 HARRISBURG – Having received unanimous support from the General Assembly, legislation sponsored by Sen. Michele Brooks (R-50) to provide critical nourishment for medically fragile babies is poised to be signed into law.
Senate Bill 500, also known as Owen's Law, would grant children who are less than a year old access to medically prescribed pasteurized human donor milk by requiring Medical Assistance coverage in inpatient and outpatient settings. The donor milk must be obtained from a milk bank licensed in Pennsylvania or through a hospital licensure process in accordance with the Keystone Mother's Milk Bank Act of 2020 to ensure safety of the milk.
Statistics show, in very low birth-weight babies and other medically compromised infants, donor milk protects against serious health complications that can lead to longer hospital stays, multiple medical and surgical procedures, readmissions, lifelong disability or even death.
"After hearing Owen's story, and knowing how life-saving this nutrition can be for medically fragile babies, I was determined to act so that no other family would face this preventable tragedy. Parents who have babies with serious complications also know about the benefits of human milk and have even sought unsafe sources of it out of desperation. No parent should be forced to make that decision, especially considering how accessible and cost-efficient the milk is," Brooks said.
Owen's Law was inspired by a baby boy whose family lives in Indiana, Pa. He was born at a gestational age and birth weight just below the criteria to be eligible to receive human donor milk. After experiencing serious gastrointestinal inflammation, Owen sadly passed away.
Brooks' bill would have enabled Owen to receive donor milk because of his birth symptoms and medical needs. His story will now become his legacy.
Donor milk is also medically prescribed for children with heart problems and certain serious health care issues, including neonatal abstinence syndrome, which occurs when infants are exposed to opioids or other substances of abuse in utero. As a result, the use of donor milk is a proven, cost-effective way to improve health outcomes of the child and lower health care costs.
To qualify for coverage, the child must meet the requirements for medical necessity or the child's mother must be medically or physically unable to produce breast milk in an amount needed to meet the child's needs.
"We are overjoyed to have this life-saving bill be on the cusp of enactment," said Denise O'Connor, Executive Director of Mid-Atlantic Mothers' Milk Bank. "At the milk bank, we have seen first-hand the struggles outpatient families face when having to pay out of pocket for their medically vulnerable child's needed nutrition. With Owen's Law in place, not only will these families now have coverage for their baby's pasteurized donor human milk, but it will establish more equitable access to donor milk for inpatient infants in NICUs across PA. Thank you to Senators Brooks and Judy Schwank for their leadership, as well as Representatives Donna Oberlander and Dan Frankel for seeing this bill through the House chamber."
CONTACT: Adam Gingrich, 717-787-1322