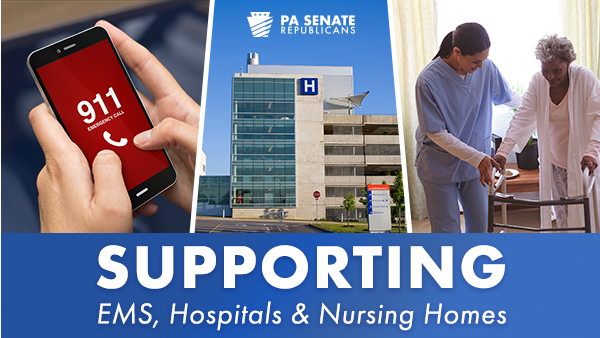 HARRISBURG – Sen. Michele Brooks (R-50) and other members of the state Senate unanimously approved legislation yesterday that, in part, advances critical funding increases for ambulance providers. Today, the House of Representatives took up and passed the bill.
Passage of House Bill 1351 helps address the crucial public health need for emergency medical access across Pennsylvania by creating significant support for our vital ambulance services. This legislation was amended in the Senate, building on the work done in the Health and Human Services Committee that Brooks chairs.
"For far too long, our ambulance providers have been burdened with taking on the costs of transporting a patient 20 miles before they could be reimbursed. Under this legislation, Medicaid will provide reimbursement for every single mile an ambulance travels on the ground with a patient on board," Brooks said. "This funding increase is in addition to the $85 million that we previously passed for Advanced Life Support and Basic Life Support services in last year's state budget."
Additionally, the legislation authorizes the use of FY 2023-24 funding to tie Medicaid reimbursement rates for services provided to either the highest Medicare fee schedule rate or the Medicaid fee schedule rates, whichever is greater.
"I have always understood and appreciated the critical role our ambulance services provide to our communities, and I will continue to build on the progress we've made to help emergency services, "said Brooks. "Hopefully with the funding we have been able to provide over the last two years, this will help EMS providers meet the challenges they face with workforce shortages and other obstacles. The very lives of our loved ones, neighbors and friends depend on someone answering during an emergency."
Altogether, this year's state budget gives $126 million to EMS providers across the commonwealth.
"In addition to these efforts, I will also continue to work to remove the many bureaucratic barriers and red tape regulations that stifle these providers and other health care services," Brooks stated.
The legislation will now head to the governor's desk.
CONTACT: Adam Gingrich, 717-787-1322