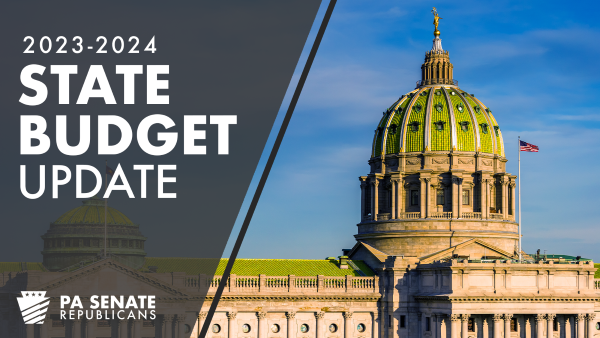 HARRISBURG – Sen. Michele Brooks (R-50) voted with Senate colleagues this week to advance two bills to implement key parts of the 2023-24 budget and drive out funding to schools, EMS providers, libraries and more.
These fiscal code bills take an important step to further finalize portions of the state budget which require implementation language. The measures are now awaiting a vote in the House of Representatives.
House Bill 1300 boosts reimbursement rates for EMS providers and reauthorizes allocations that local courts rely on for funding. These budget items are important and time-sensitive, Brooks said.
The bipartisan bill increases EMS transportation rates by requiring the Department of Human Services (DHS) to pay for all loaded miles, which is similar to legislation Brooks sponsored, Senate Bill 555. In addition, DHS must reimburse providers at the greater of Medicare or Medicaid rates for ambulance services.
This follows the previous state budget, which increased the rates for ambulance transportation paid for by Pennsylvania's Medicaid managed care program. Prior to the change, EMS providers had received only two Medicaid reimbursement increases during the last two decades, with the last being in 2018.
"This measure continues increased support for our local EMS providers so that they get paid for the critical work they do, as well as ensure local residents have access to lifesaving care," said Brooks. "It also directs critical funding to many other key programs and services."
In addition, House Bill 1300 directs funding to many non-controversial and bipartisan budget items related to education, including:
Providing for a two-year tuition freeze for state-owned universities.
Allocating more than $260 million for community colleges.
Distributing more than $70 million in state aid for libraries.
Allocating more than $76 million for special education funding for Intermediate Units.
Transferring more than $8.5 million to maintain current PHEAA grant levels.
Distributing $11 million in grants for non-public school safety initiatives.
The Senate also voted to advance Senate Bill 757, which addresses other priorities included in the original budget deal Senate Republicans negotiated with Gov. Josh Shapiro in June.
"Action on these bills compliments enactment of the original budget bill we passed in
June that funded essential services while holding the line on taxes," Brooks said.
CONTACT: Fallon Binner, 717-787-1322