HARRISBURG (February 10, 2022) Sen. Michele Brooks has been selected as "Legislator of the Year" by the Pennsylvania State Association of County Fairs (PSACF).
In presenting the award at their banquet in Hershey recently, the group cited her year-round support of local fairs and her strong belief in the benefits they provide to our communities, along with her successful effort to continue funding for fairs despite their cancellation during the COVID-19 pandemic.
"On behalf of the Pennsylvania State Association of County Fairs, we would like to thank Senator Michele Brooks for her strong advocacy and leadership in the Senate. Senator Brooks has been a champion of the fairs in the Capitol since she was first elected in 2006, and we truly appreciate her support," said Harry Reffner, Executive Secretary and Treasurer of PSACF. "She not only continues to help us protect our annual budget-related line-item, but she also provided us with an essential voice in the Capitol during the COVID-19 related shutdowns. Congratulations, Senator, and we look forward to continuing to grow our partnership in the years to come."
In accepting the award, Brooks said, "I am very honored by this recognition and look forward to continuing to serve as a strong advocate for our local fairs and northwestern Pennsylvania, working across party lines to build consensus in Harrisburg and move the Commonwealth forward," Brooks said. "I always enjoy supporting our 4-H kids back home and attending the 4-H auctions. I also appreciate the dedication of our thousands of remarkable volunteers who work to make our fairs happen."
Brooks said fairs have a special place in her heart, noting their transformational impact in the community, which transcends the timeline of the fair and the boundaries of the fairgrounds to advance the mission of 4-H and agricultural groups, churches, fire departments, veterans' organizations, and other nonprofits all year long.
Brooks was also honored statewide with a Pennsylvania Health Care Association Award earlier this year for her work to develop a statewide grant program for enhancing indoor air quality for long-term care facilities and protecting our loved ones who reside there.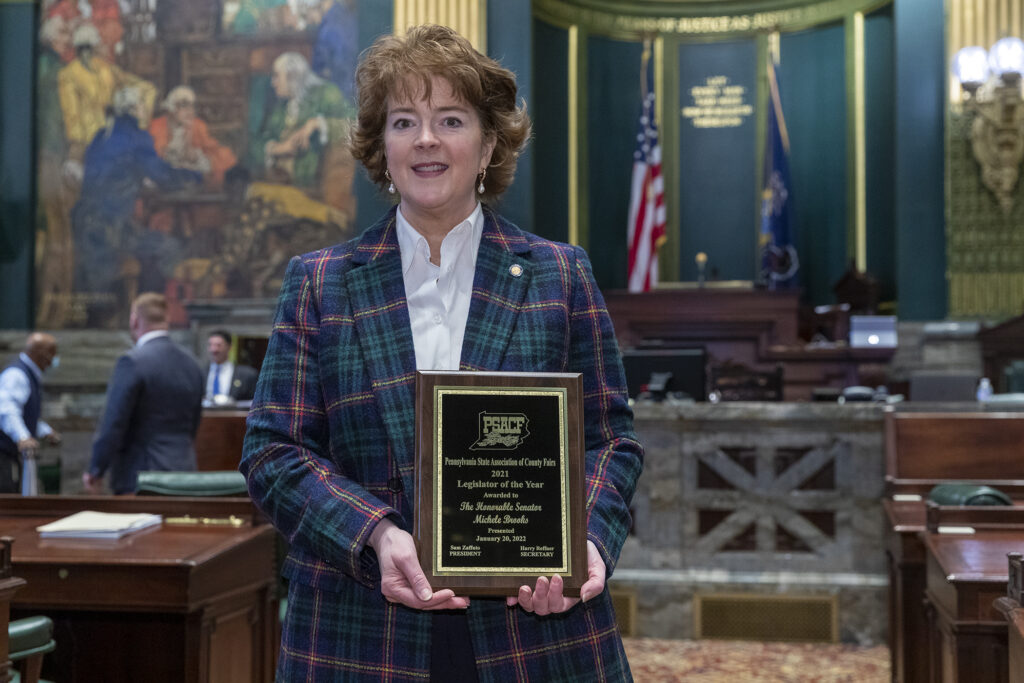 CONTACT: Diane McNaughton
(717) 787-1322 dmmcnaughton@pasen.gov
Kerry Lange, PSACF (717) 232-5322