Senator Michele Brooks is warning local residents of a fraud scheme that claims individuals have received a traffic citation from PENNDOT.
The Pennsylvania Criminal Intelligence Center recently issued an alert regarding fraudulent emails claiming to originate from PENNDOT.  The subject line of the fraudulent email indicates "Action Required – Fine for Traffic Violations."  The body of the email contains links to an alleged photo capture, but these messages are not affiliated with PENNDOT.  "This simply is not the case. These emails are not being sent by PENNDOT," said Senator Brooks. "In fact, fines for citations or traffic tickets issued in Pennsylvania are not paid directly to PENNDOT. Anyone who receives one of these emails should simply delete it or contact my district office at 724-588-8911."
Click here to read the official press release from the PA State Police.
Below is the example of the fraudulent email.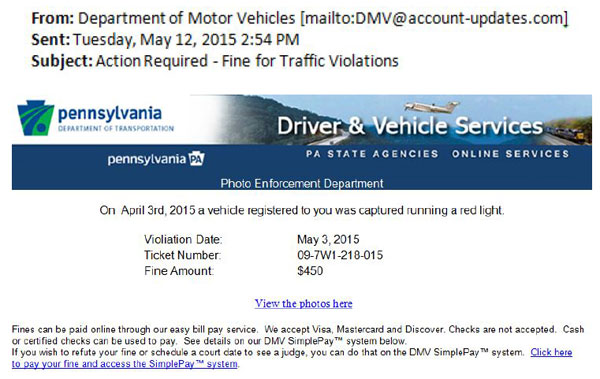 ###
Contact:  Michael Hengst (717) 787-1322